Jambo!
Seo an leathanach ag léiriú an ceangailt idir Scoil Raifteirí agus scoil i Kenya.
This page highlights the connection between Scoil Raifteirí
and an orphanage school near Nairobi, Kenya.
Maryanna Wangari has opened a shop in Galway
to trade secondhand goods to raise funds for the orphanage her mother,
Sarah Wairimu, has established in Ikumbi, near Nairobi in Kenya.
The centre helps orphans from families afflicted by AIDS and related illnesses.
The shelter and education provided gives hope to the children.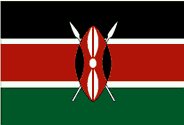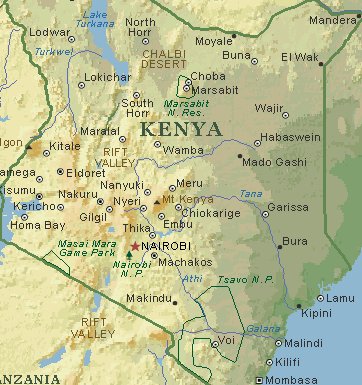 | | |
| --- | --- |
| Some wildlife in one of the Parks | Nairobi, the capital of Kenya |
First, we looked at pictures of our new friends from Kenya. Then we wrote letters under the watchful guidance of Laura...

...Then we made some posters so that the children in Kenya could learn something about our life here in Ireland.

Above, one of the little fellows in the orphanage. He was severely malnourished and emaciated when he was taken in by Sarah. Today, he's in good shape!

On the left, you can see the poster put together by some of the girls which tells about the GAA.

We handed over the letters and the posters to Maryanne, so that she and Laura can bring them to Kenya when they visit in December.

Another of our new friends in Kenya
This is a picture of Maryanne talking to us. She also showed us a video which showed us life at the orphanage and the town nearby.
Asante Sana, Maryanne.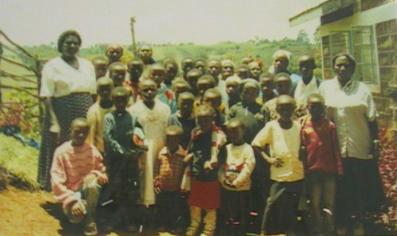 | | |
| --- | --- |
| This is a school which Múinteoir Padraig visited when he was in Tanzania in 2001. | Here he is with the pupils. Even though they are poor, they have a school uniform. |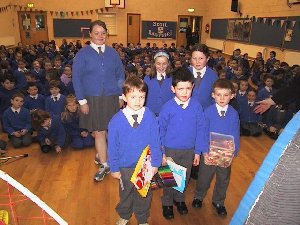 As a fundraiser, Laura, Laurena and Shaunagh organised a competition in which children guessed how many sweets were in a box. There were 1168, and Stiofán from Rang Cristín got it right. €177 were raised.
| | |
| --- | --- |
| | |
| We made another load of money by holding a raffle. Séamus from Rang 1 was the lucky pupil to win the panda donated by Laura. | |
Laura Returns!
Laura Heneghan visited us after coming back from Kenya.
She had news, letters and some art work from the orphanage.
Here are some pictures she brought us.
| | |
| --- | --- |
| Tea-picking in the countryside | A family outside their home |
| Buying supplies in the town of Kigumo | Laura helps gather firewood |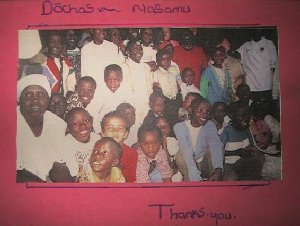 This is the thank-you card we received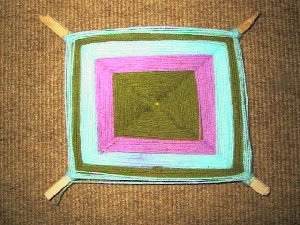 This is an example of the lovely art work they made for us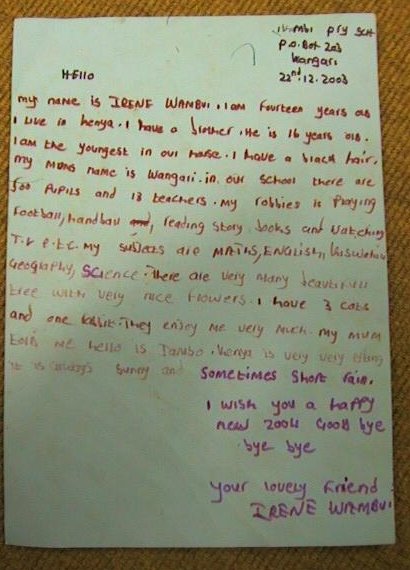 Bye!
Nollaig 2011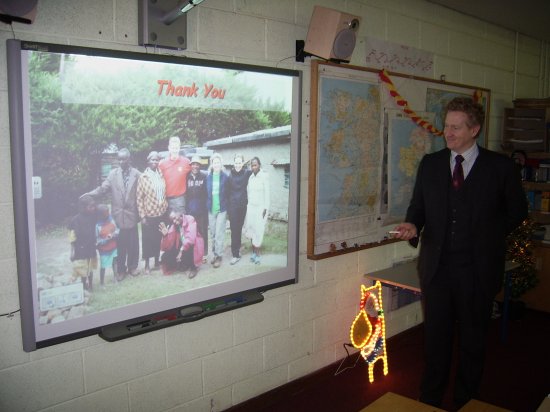 Tháinig an t-Uasal Ó Grádaigh isteach chun labhairt
faoi thréimhse a chaith sé i gCéinia.
Tá sé le feiceáil thuas leis an bpictiúr deireannach a thaispeáin sé dúinn.

Here are some more pictures from the presentation: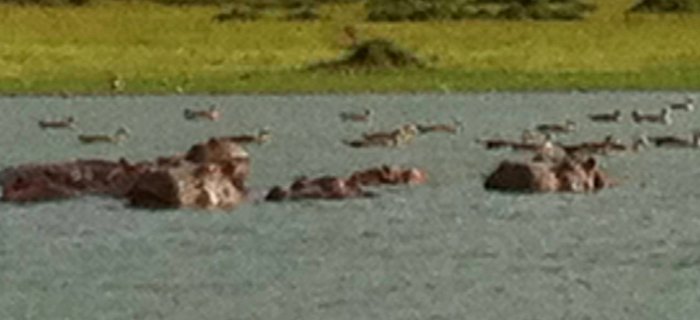 Chonaic sé an dobhareach: hippos are territorial and dangerous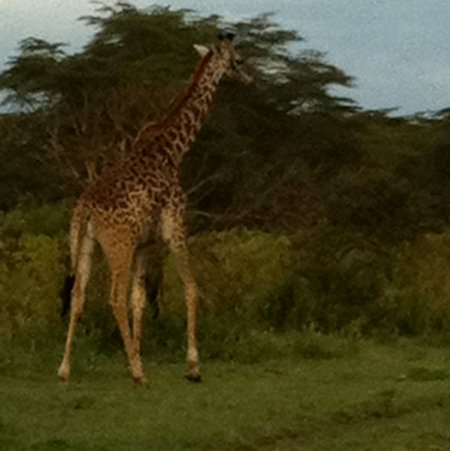 Seo ainmhí nach bhfuil chomh dáinséarach!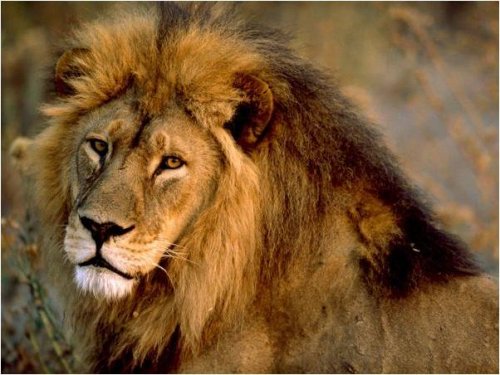 "Did I hear you mention dangerous animals?"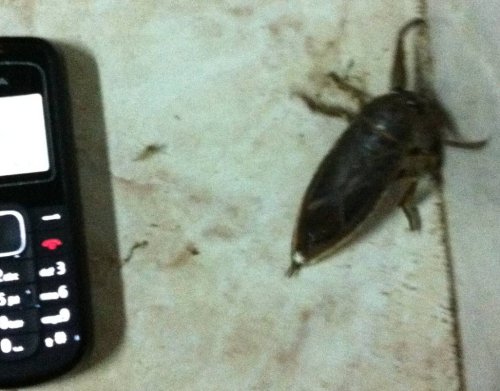 Feithid mhór nó guthán an-bheag...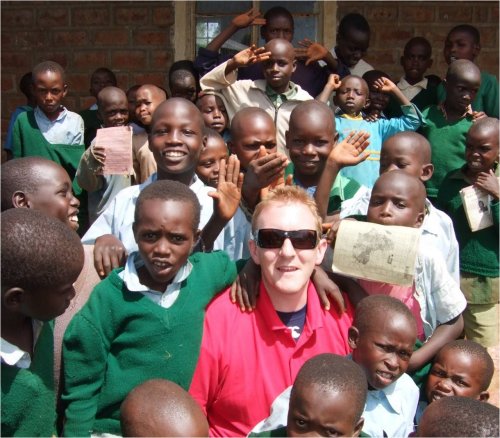 Of course, it was to meet the people that Mr Grady and his brother went to Africa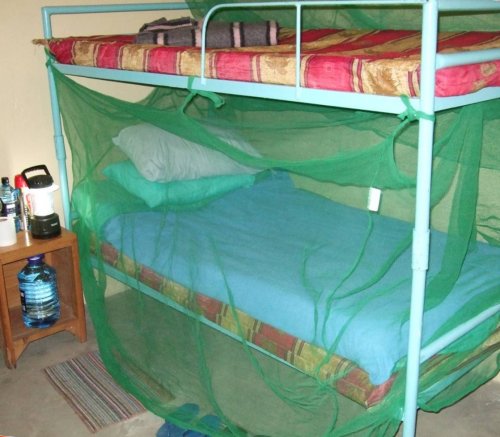 Seo na leapacha a bhí acu.
Caithfidh tú a bheith cúramach faoi mosquitoes agus malaria.
Tá tóirse le cadhnraí agus uisce in aice na leapa.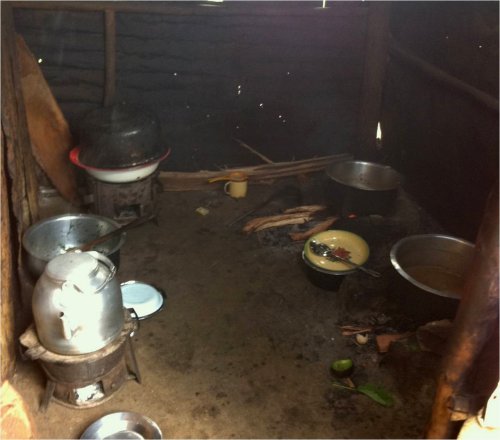 Seo an chistin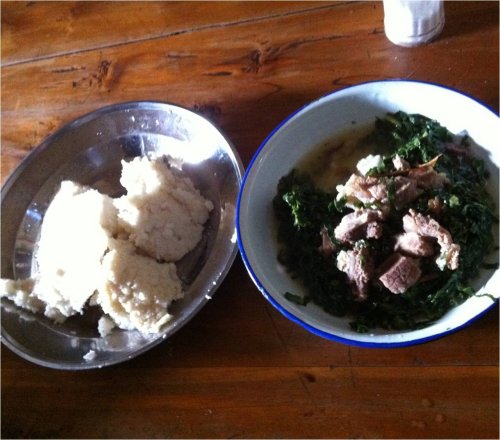 Ar chlé: Milled flour is used to make maize pulp popularly known by Kiswahili word ugali.
Ar dheis: spíonáiste agus feoil ó ghabhar.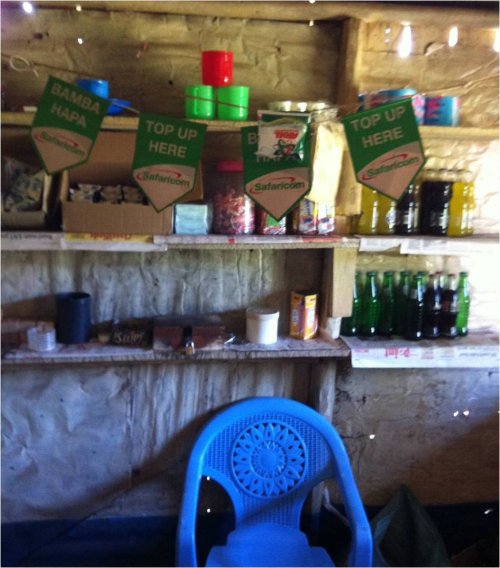 Ní raibh mórán ar fáil sa siopa áitiúil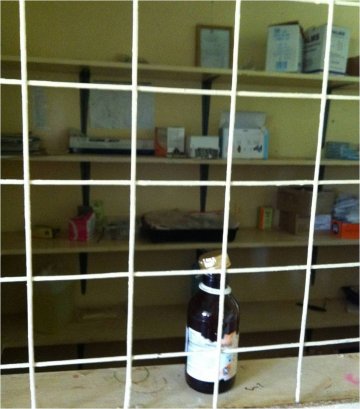 Seo an seomra san ospidéal ina raibh na drugaí ar fáil.
Lack of medicines and drugs prevent patients' recovery.
Mr O'Grady took a suitcase full of medicines and medical equipment with him to Kenya.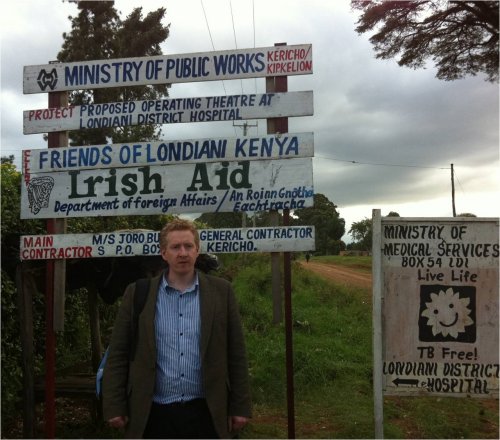 Bhí sé lonnaithe i Londiani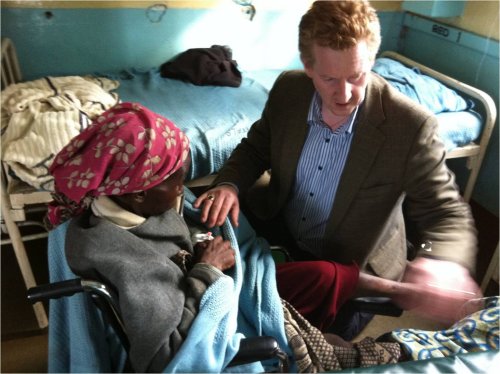 Thosaigh sé ag cabhrú le na daoine breoite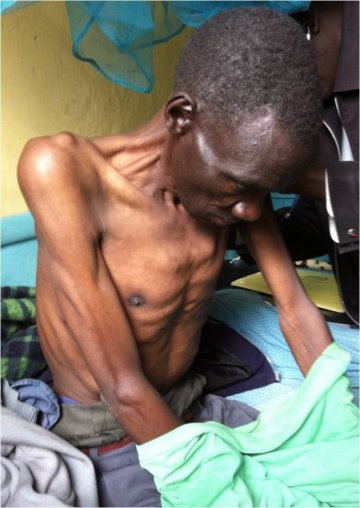 This man is emaciated.
He must choose between working to feed his family and succumbing to illness,
or paying for medical help and leaving his family hungry.
The man on the right has serious abscesses caused by dental decay.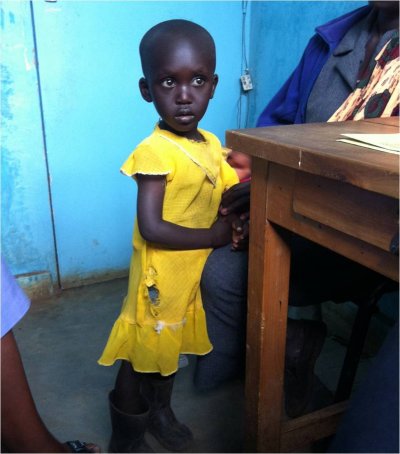 Tá an cailín seo ocht mbliana d'aois.
Níor fhás sí mar is ceart mar ní raibh go leor le hithe aici.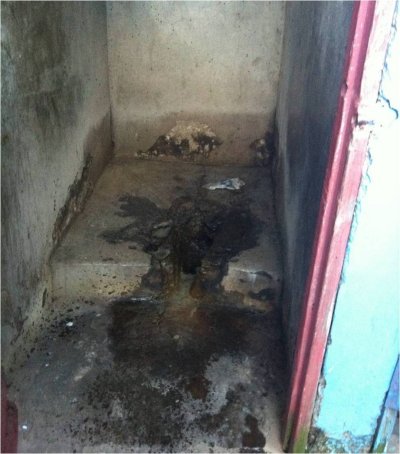 Tá sé deacair a bheith sláintiúil nuair atá leithreas mar seo agat.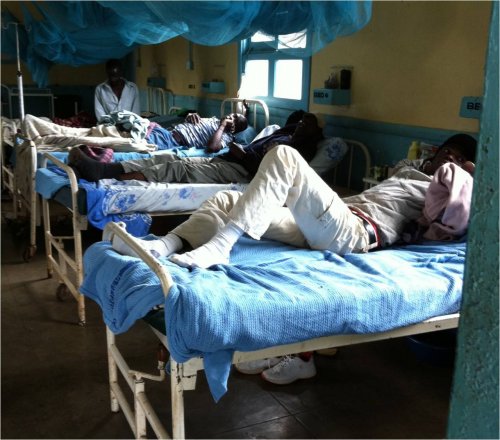 Seo othair (patients) san ospidéal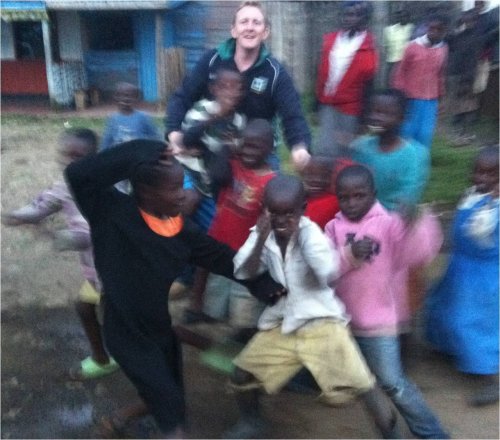 Fós, tá fuinneamh agus beocht sna páistí!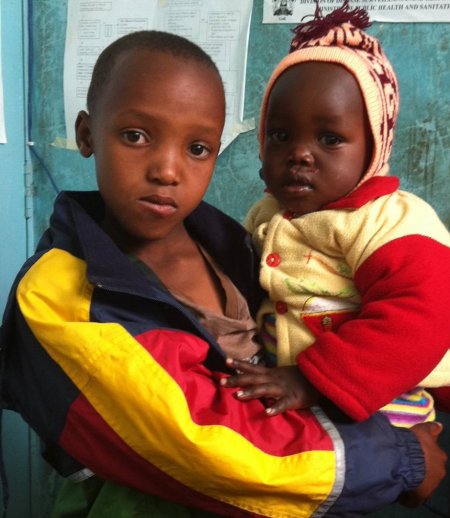 Ní féidir leis an gcailín seo dul ar scoil.
She has to trek five miles to a river to get wood every morning.
Then she gathers firewood and prepares food.
She has to mind her baby sister.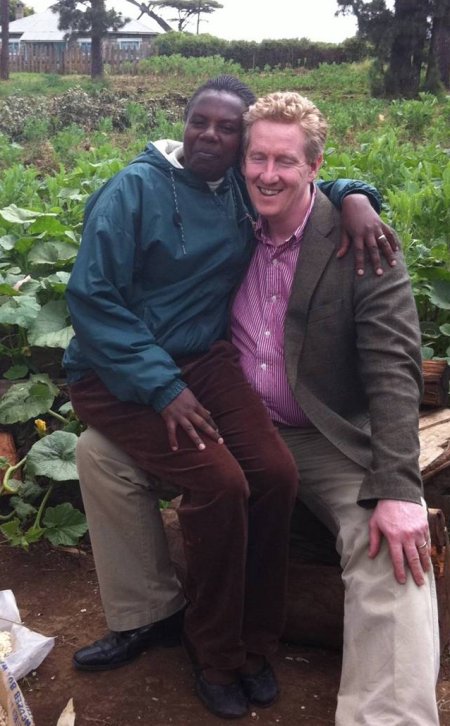 Bhí an mháthair seo an-bhuíoch don chabhair a fuair a páiste ó Phól.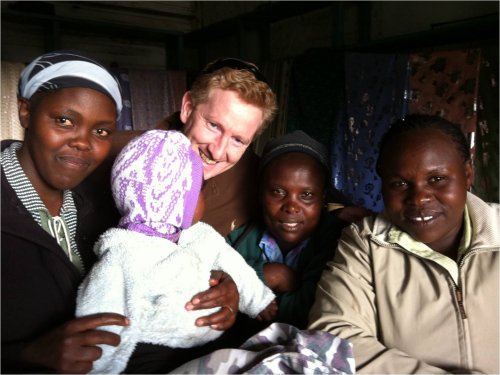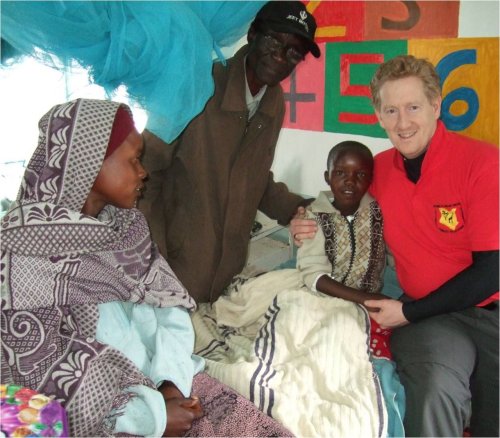 It's a great feeling to be able to help people in distress.
Táimid an-bhuíoch don chuntas a thug Mr. O'Grady dúinn.