The Greenway
On Friday, the 5th of September, Fifth and Sixth Class went on a walk from Newport to Mulranny. It was roughly sixteen km. long and it took us about around four hours to do it. We started at ten o' clock and finished a bit before two.
I sat on the bus next to Sam and we left around half nine. When we got there, we hopped out and Múinteoir Gearóid explained the rules. Off we went with Múinteoir Gearóid first, and Múinteoir Audrey and Múinteoir Máire taking up the rear. I was in a group with Darragh, Sam, Liam, Piaras, Emmet and a few others.
We saw Burrishoole Bridge at the start of the walk. The road snaked ahead around the tall trees that were just beginning to lose their colour. We saw many plants along the way, such as heather, gorse and red clover. We also saw some moss, mushrooms and berries along the way.
We saw frogs and dragonflies as we walked through a bog to reach Mulranny. As we crossed a bridge, we looked down almost 100 feet of a drop to a valley with a river gushing beneath us. By this stage, we could see Mulranny and the beach to our left as we walked.
In the end, we got there, after looking into a castle along the way, to find the bus waiting for us. We arrived back in the school a minute or so late. It was a great walk and a fantastic day out.
Seosamh
Walk on the Greenway
Last week we walked part of the Great Western Greenway. We walked 15k of the 42k route.  It was very tiring but I would still do it again. It was really fun. I got to chat with my friends and of course it meant we didn't have to do any school work. The only bad things were I felt very tired when I got home and my feet hurt.
The Greenway runs all the way from Westport town to Achill. It is used by many people both local and tourists. People cycle, run and walk the Greenway all throughout the year. My mum cycled the whole Greenway and back to raise money for charity, she said it was tough but she really enjoyed it. Even though we walked only 15k, I think we did a fantastic job.
Along the way on our walk we meet many cyclists. They all seemed to be enjoying their trip. The weather was perfect for being on the Greenway because it was not too hot or cold, there was a nice breeze but it was not too windy and it only rained a very small shower. For those who wanted, there were a few rest stops where you could enjoy a tea or a coffee. Unfortunately, we did not go to any of them. We did stop for lunch and breaks three times. Everyone brought sandwiches and snacks to enjoy along the way.
Lots of my classmates took photos of the beautiful scenery. There are lovely flowers and trees along the way. There are also lots of viewing points to look out on the river and other scenery around you. I think that to walk the Greenway is worth it. Everything is so beautiful you see why tourists come to do the full trail. Exercise is very important and you get plenty on the Greenway. The Greenway has won awards including a European Destination Award or EDEN award. You only have to visit it to see why.
I would definitely recommend everyone to go and see the Greenway, even if you only walk 1k it would still be worth it because you would get to see some beautiful sights and you would want to come back to see more.
Josh

Fáilte romhat go dtí Óstán Mhala Raithní.
Tógadh an t-óstan sa bhliain 1897 chun Mhala Raithní a dhéanamh mar scríbe turasóireachta. Bhí an t-óstán feistithe le gach áis
nua-aimseartha ag an am, lena n-áirítear solas leictreach, agus faoi 1900 bhí folcthaí uisce te agus fuar ar fáil freisin.
Tá alán gníomhaíochtaí ar fail sa cheantar mar siúlóid nó rothaíocht ar an Bealach Glas, 
galf, marcaíocht capaill, raon uisce agus i bhfad níos mó.
Seomraí codlata i Mala Raithní Park Hotel suite ar dhá urlár agus tá siad déanta do chompord.
Tá gach seomraí óstáin éagsúla i leagan amach agus toisí le háiseanna 
tae agus caife, teileafón, teilifís, triomadóír gruaig agus rochtain ar an idirlíon wifi.
 
le Cáit D, Amina agus Aíobhe J 


  
Walk on the Greenway
My class and I went on a walk on the Greenway last Friday. It was great fun and a day away from the bitter sorrows of everyday school.
The first 5 km:
Darragh, Liam, Pierce, Seosamh, Emmet, Cian, Rasheed and I all walked together. We had lots of laughs and great banter. We walked by many rivers and hills and sheep etc. But the best bit of all was when we stopped at a big bridge for lunch. It was a magnificent architectural design with an almost purple glow.
The second 5 km:
Around the 9km mark, my feet started to get tired. But then I thought that every step was a one step closer to the finish line. Where we stopped for lunch this time around was a bit different from the last stop it was a little patch of grass filled with frogs the size of the top of your finger. They were so cute and every one wanted to pick one up but we had to put them back after.
The final stretch:
At this stage we started splitting into smaller groups we finally met our destination Mulranny hotel where we hopped onto a bus that took us on the magnificent journey across Mayo back to Castlebar.
The bus:
The bus ride home with all its amazing scenery took just under 35 minutes we got to school in the nick of time just as the bell rang.

Sam, Rang a 6
Burrishoole Abbey

Bhí Mainistir Burrishoole tógha i 1460. Bhí sé tógha cúpla míle san iarthuaisceart de Baile Uí Fhiacháin. Bhí sé bunaithe ag Sir Richard de Burgo. Bhí sé déanta gan cead ón bPápa ag an am, Innocent VII. Ar ócáid amháin i 1652 d'ionsaígh saighdiúirí ón mBreatain an mhainistir. Bhí beirt mná rialta ina gcónaí sa mhainistir ag an am.Thóg na saighdiúrí iad chuig Oilean na Naomh. Bhris na saighdiúrí easnacha na mná rialta agus d'fhág siad an bheirt chun bás a fháil.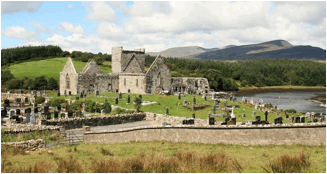 Carrickahowley

Carrickahowley Castle stands on the edge of the north shores of Clew Bay Co. Mayo. The castle is known for its link with Granuaile the pirate queen who inhabited the castle in the later part of the 16th Century.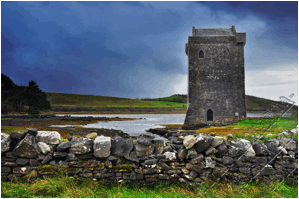 Cáit M & Cadhla J