Stories from the Past
MY DAD
I WAS BORN ON THE 19TH OF JANUARY 1978. I LIVED IN A PLACE CALLED NEWCASTLE.  MY MUM AND I LIVED TOGETHER IN A HOUSE WITH STABLES SO WE HAD PONIES.

MY MUM LOVED ANIMALS SO WE HAD THREE DOGS. I USED TO CANTER ACROSS THE FIELDS DOING CROSS-COUNTRY ON MY CONNEMARA PONY, PIP. MY MUM USED TO RIDE A HORSE CALLES SAPPHIRE.

SCHOOL WAS TOUGH BACK THEN. MY WORST ENEMY WAS ALWAYS MR. RAE. I LOATHED HIM AND I WAS ALWAYS HIS FIRST VICTIM. HE TAUGHT MATHS SO THAT WASN'T ANY HELP. MY FAVOURITE SUBJECT WAS ALWAYS ENGLISH. IT COULDN'T GET ANY EASIER THAN ENGLISH.

MY BEST BUDS WERE DOUG BAZ AND FISHY. FISHY WAS NAMED THAT BECAUSE HE WAS A BRILLIANT SWIMMER. AFTER SCHOOL, I WENT TO THE LITTLE RIVER TO PLAY WITH MY NEIGHBOURS. ONCE, WHEN I WAS ABOUT SEVEN, I ALMOST DROWNED WEARING WELLIES IN THE WATER WHILE SWIMMING. I GOT DRAGGED UNDER. LUCKILY MY FRIENDS HAULED ME BACK UP.

ONE OF MY FRIENDS, HAROLD, HAD A DAD WHO OWNED A DAIRY FARM. ONCE A WEEK I WENT UP TO THE FARM AND STOLE SOME FRESH MILK WITH A PLASTIC CUP. IT WAS SO NICE BECAUSE IT HAD ALL THE CREAM AT THE TOP.

WHEN I WAS EIGHTEEN, I WENT TO DERBYSHIRE UNIVERSITY. I MADE FRIENDS CALLED MATT AND CHAP. WE TRAVELLED THE WORLD TOGETHER AND DID CAMPS. THAT WAS WHEN I MET AISLING, MY WIFE. WE BOTH DECIDED TO MOVE TO IRELAND AND THEN WE GOT MARRIED... IN THE MALDIVES!

WE HAD CHILDREN, LEILA AND CLAUDIA.
THE END

NOT!
Leila
Granddad

I am Paddy Devaney from  Crimlin near Castlebar. I was born in 1939, the year the World War Two started. I was the eldest child in my family. I had two brothers and one sister. Our parents owned a farm where we had cows and cattle. As we grew up, we helped out on the farm. We would help set the potatoes and vegetables. We would also help to gather the turf and hay. It was hard work as we were only young.

I began school in Crimlin in 1945 the year the war ended. Miss Duffy was our junior teacher. She taught baby infants up to second class. We did all of the usual junior subjects including singing. The girls also did sewing. Miss Duffy was a very good but strict teacher. From third class on, we were taught by the master [principal]. He taught all the usual senior subjects. His name was Mr. Heverin. He was a great teacher but if in bad form he would get very angry.

I finished primary school at the age of fourteen and then went to secondary school. Secondary school was very different, as the subjects were much harder. We had a teacher for each subject except some teachers taught two. Another change was that we would get a lot more homework. I preferred primary to secondary because we got home earlier and hadn't as much homework.

When I finished secondary school, I was looking out for a job. I managed to get a few part-time jobs. The first one was at one of the hotels in town. The next one was a council office job. While in the council job, they were looking for full time staff in St Mary's Hospital and I applied. I was successful, and delighted to get the job. There were three years training to be done, but I worked in the wards while training. I was employed there for thirty six years.
I retired in 1998. I got married to my wife Mary in 1967, and then settled down near Castlebar. We were blessed with four lovely children. They all attended school in town and succeeded in getting jobs after collage. They each in turn met good men and married them. They continued working after marriage. They have nine children between them, my grandchildren. They are all now attending school in Castlebar. I am very thankful for everything in my life.

Freya
A Biography Of My Grandad

My name is Seán. I was born in Knockmore in the 1940's and reared in Ballycroy. I lived a half a mile from the school where my father was a teacher and the principal.

My brothers and sisters and I wore shoes in the winter but we went to school barefoot in the Summer. I made my Communion and Confirmation in the same year because the bishop only came to the school once every four years I played football for Ballycroy GAA. I was cutting turf at the age of twelve, and we often went fishing for trout and eels at a river that was near our house. We often helped our neighbours with turf cutting, potato picking and with the sheep and cattle. I often walked seven miles with the cattle to the fair, and often sat on the handlebars of the bike when my mother cycled into town for groceries.

I worked on the family farm every day after school and looked after our pet donkey and dogs.

We did not have a TV or radio so we often went to our neighbours and they told us ghost stories. We also played card games and blind man's buff. I also was part of the wren boys and we went from house to house singing on St. Stephen's Day and we made a couple of shillings.

I was lucky enough to go to Croke Park and see football and hurling games. That was a big deal in those days as Dublin was far away and hard to get to.

Pádraig

My  Granddad
John is my granddad's name. He is from Inisbiggle, Achill. He played football and loved to run and swim if the weather was good. He went to Scoil Mhuire National Irish School. He is 58 years old. They went out on the boat to get food at Achill Sound. He also picked winkles and shellfish.  He also got water from a well. He looked after the cows. He gathered and made hay. He ate potatoes that they cropped and fish that they caught.

There were 26 in his school. There were three in his class, and six classes altogether. There were strict enough but never hit them. There maximum homework was seven or eight questions. His favourite subject was maths and his least favourite subject was Irish as he went to a school in England before he went to Ireland. He played football and tag in school.

He used to spread the turf and foot it then stack it up on the bog and fill it in bags. Then he'd carry it down to the road and bring it home with the donkey and Cart. Then he went to school in Belcarra. After that he went to London and became a builder. He got married in London. Then they went back to Inisbiggle and my mum was born. Now he lives in Castlebar with my grandmother.
Ríoghan
Bruce Buckton
Bruce Buckton (my granddad) was born on January 27th 1946 in Wellington, New Zealand. He had a younger sister, Annette, and they liked to play on their go-karts as kids.

When he was five he went to America with his family for a few years. I'm not sure where he went for primary school, but i know he went to Hut Valley High for secondary school. He went to a university in Wellington where he studied law and later became a lawyer.

After he became a lawyer he set up his own private practice in 1980. He later got promoted to a judge. He moved to Napier as a Judge and then to Auckland sometime later.

He married Kathleen Killeen in 1966 and had four kids: Nicola, Michael, Daniel and Clodagh.

He loved yachting. It was his favourite pastime. He also loved cooking, visiting the south of France and eating ;)

He was appointed onto the parole board for New Zealand prisons and served on it until his death.

He died on the nineteenth of March 2003. He died three weeks after being diagnosed with pancreatic cancer. He was only 57 years old. I never got to meet him since. I was born three years later. Even though I didn't meet him, I look at his picture and imagine I'm looking directly at him.
Anneliese
Country Life In The 1960's
I was born in the middle of the countryside, the youngest child of my parents. I had two older brothers, John and Michael and two older sisters, Margaret and Ann.

We had a small farm, and reared calves, pigs, hens and chickens. My mother did all the farm work, and my father worked in the County Council.

I walked to school every day, hail, rain or snow. It was a two-mile walk and there were lots of children on the road together every day.

My school had three teachers and every morning my job was to fill the kettle and make tea for the teacher. I had lots of fun at school with all my friends, playing games of football and tag and skipping and hopscotch.

There was no television in our house, so we listened to the radio. We played board games, like snakes and ladders and cards.

We did not have a telephone, so we wrote letters to our family members in England and America. My sisters emigrated to England and America, when I was young, so they sent me gifts sometimes.

Life was very simple. We all had jobs to do on the farm, making and gathering turf from the bog.

I was in secondary school I went to work in the Civil Service in Dublin.

I got married in 1981 and continued to work after marriage. Up to a few years previously, women had to give up work on their marriage, so that was the start of more freedom for women.

Things changed with better communication systems and technology and it is a totally different country today.
Ella B
MY GRANDPARENTS
All my grandparents live on ACHILL ISLAND. Both of my granddads are dead. Their names were Tommy Joe and Seán. Seán passed away in 2005 and Tommy Joe passed away in 2011.
My Nanny's names are Maureen and Celine. Maureen lives in Dooega and Celine lives in Bunnacurry. Both of my Nannies had four children. My granddad moved to Ireland when he was eight. His dads name was John and his mum's name is Mary. He had six sister and five brothers. My other Granddad had eight brothers and seven sisters. His dad's name was Tom and his mum's name was Mary.
My Nanny had five sisters and seven brothers. Her dad's name is Thomas and his mum's name is Anne. She had cows, a horse, nine ducks and twelve hens. My other nanny had two brothers and six sisters. Often she would play football with her brothers and sisters.
My Granddad worked on many motorways and building sites.  When he was working on a motorway in Louth, he got a hook in his eye and at the moment the hook is in the national Museum in Dublin. My other granddad is well known for his boats. When my granddad he was little, he would go out in his dad's boats and help him. My other nanny would play hide-seek in the forest with her brothers and sisters and her neighbours. Her dad would pop out of the trees and scare them.
Gavin
The Life of my Grandad
My Grandad had a big influence on me when I was younger and I admired him very much. Sadly he died when I was eight years old, but I remember him and the stories he used to tell me very well.

He was born outside Spiddal in 1928. He was a native Irish speaker. His family was poor and he often spoke about his school days and life during the emergency in Ireland when money and food was scarce. His father died when he and his six siblings were very young. My Grandad worked very hard and won a scholarship to third level college in Dublin.

In Dublin, my Grandad trained as a teacher. He got a job as a principal of a vocational school in Gurteen, county Sligo. He taught and was very interested in Irish and Irish history. He stayed in Gurteen and married. He and my Granny had four children, one of whom is my mam, Martina. My Grandad was very good at gardening and had a beautiful flower and vegetable garden. He loved reading and he also wrote poetry and short stories for Irish magazines.

My Grandad was very kind to me and I loved visiting him, and I miss him very much.
                                                 
Rónán Ó Raghallaigh
Maryanne Devaney

Maryanne Devaney was born on the 6th of February 1940. She grew up with four brothers: Liam, Joe, Steven and Lar Devaney. Maryanne is the second oldest in her family. Her parents' names are Tom and Bridget Devaney. Maryanne's family grew up in Rinroe, Co. Sligo, half way between Enniscrone and Ballina.

Maryanne went to national school in Enniscrone her school was called Corballa National School. She started at the sage of five. Maryanne's national school was a mixed school. At the age of twelve, she left national school. Maryanne's national school was three miles away, so she either walked or cycled to school depending on the weather. The school had two rooms.
Maryanne went to secondary school in Enniscrone, the name of the school was Enniscrone Secondary School. In secondary school her friends called her Mina for short. The name stuck to her. She started at the age of twelve. It was a really big school and the rule was that you had to wear good clothes, no tracksuits were allowed. It was a mixed school and she cycled to school most days and some days she walked. She finished school at the age of 17.

Maryanne didn't go to college but at the age of eighteen, she started to work at a bakery. The bakery was based in Ballina. Maryanne loved baking and she still does now. At the age of twenty three, Maryanne stopped working. 

Maryanne fell in love with a man called Tom Courell. They got married in 1965, Maryanne was twenty-five years old. Tom and Maryanne then moved to Castlebar together in 1965. They had three children together: Declan, Joe and Ronan three boys.

Maryanne has eight grandchildren and they all call her Granny Mina. Maryanne still lives in Castlebar and she goes on a long walk every evening. Sometimes she goes with some of her grandchildren.

Drew
School in the 70's

My Mom started school when she was five years old. Her neighbours drove her to school. They started school at nine o' clock and they finished at three o' clock. She didn't have a uniform. They had to wear their own clothes.

The teachers were all very strict and cross! There were some nun teachers and some lay teachers. My Mom's favourite teacher was called Sister Kevin because she was very sweet and kind.

Their work was not too hard. They mainly did projects. My Mom loved doing projects.  They didn't have homework on Friday or on the weekend.

Her school did a lot of activities like PE, nature walks and school tours. When they did PE, they played basketball or hopscotch. They were allowed to pick flowers, nuts and plants when they were on nature walks. Her class always went on school tours. They went to places like Westport Zoo, Galway and Lough Key Forest Park.

My mom's best friend was called Maria Quinn, and they always used to play together. Small lunch was from 11am to 11.15am. Big lunch was from 1pm to 2pm. She always played tip and hopscotch.

Sports Day was my mom's favourite day of the year. She loved Sports Day because she loved the smell of the cut grass. They used to get a lot of sweets. They had a race, tug-of-war, and they had egg and spoon races.

After school, she went home with her neighbours. When she finished her homework, she went outside with her sisters. They played hopscotch, tip and dress-up.

Casey
Our Grandparents' Lives

I decided to write my essay on my granddad, who will be eighty-seven in December. He currently lives just outside the city-centre, in Dublin. His name is Hugh Francis Kerins, but he likes to be called Frank.

Frank was born on the 5th of December 1930. He had one sister and four brothers. May, Joe, Pat, Chris and Jack were their names. Frank was the second youngest.

Frank's house was thatched, with four rooms. It had an open fire. They went to the bog in the summer, in the hope to save the turf for the winter, to keep them warm. They got the water from two wells.

When Frank turned four, he went to school. He went to Bunninaden National School. He went to school from nine in the morning to three in the afternoon. There were sixteen in his class. Frank enjoyed all his subjects, but his favourite was maths. The principal was called Mr. Rochford and he was feared by all the children, as he was very strict. Mr. Rochford lived until he was over one hundred!

Frank's family just had dry-stock on their farm. He and his siblings mainly helped out with the hay-making when there was the harvest and gardening.

There was a local man and his specialty was curing cuts and wounds. He used a root. His name was Mr. Gallagher. Other local men forecast the weather by looking at the sky and reading a magazine called 'Old Moore's Almanac'.

Frank and his friends enjoyed playing cards. At Christmas, Frank got a tin whistle and a toy train. It was a real treat when he and his family got to go to the cinema in Ballymoate. In 1947, there was the big storm. When frank woke up in the morning, he couldn't see out the windows. He didn't know what was wrong, so he tried to open the door, but it wouldn't budge. I days to free themselvesfrom their captivity. Even though normal life went on, it took up to six weeks for the snow to melt in places!

Frank left Ireland at the age of eighteen, and moved to England. England is where he started working for Thorne. On a business trip to America he discovered TV rental. When he returned to England, he started his own TV rental company in England. After a few successful few years in England, he returned back to Ireland and started his own company 'Mayco', which made toys. Mayco also sold their first toys to a shop called Smyth's.

Now Frank lives in Newcastle, outside Dublin city. He lives in the late Jonathon Swift's house. Frank's favourite time of year is 'Heritage Week', where his house and garden are open to the public. His garden also holds the third oldest ewe tree in Ireland, which is over 700 years old!
Alexandra Ní Chéirín-Ní Bhriain
 
MY NANNY
My Nanny is my dad's mum. She is eighty years old and she lives near Ballina beside my uncle's house on a farm. She has her own polytunnel where she grows tomatoes, strawberries, carrots, potatoes, cabbages, parsnips the regular fruit and veg. Baking is her main hobby. She bakes bread, boxty and scones. She also likes planting flowers and she enjoys watching them grow month after month. When the time is passing little green pips would start to appear. Sometimes she would drink a cup of tea when we talk to her on our visits.

She has been to France, America, England and Australia with relations. She doesn't drive but she loves walking. She walks up to the shop and mass a few times a week. She also likes travelling. She has twenty-three grandchildren. There are cats that my cousins have next door which keep on attacking her polytunnel.  My uncle had to put up a fence to try to keep them out.
Dónal
My Grandmother

My granny Doris was born on the ninth of August 1931. She had ten siblings, two sisters and eight brothers, one of which died at the age of three months from pneumonia. Her father was a carpenter and her mother stayed at home with the children. Nanny grew up in a two-storey house in Portarlington Co. Offaly.

She attended a primary school in Portarlington called St.Michael's. She enjoyed school and spent every few weekends participating in plays at the town hall.

My granny lived across from the church and next door to the parish priest. The parish priest's housekeeper would often send my granny on errands down the town, that's how she learned to ride a bike.

When she got older, she went on to work in D.E Williams as manageress. She married Paddy Mulligan, an ESB supervisor, who came from Longford. Their first house was in Shannonbridge but they later settled in Ferbane where they had four children.

My granny now lives with us and is a huge Mayo supporter.
Ella L
Cathal Duffy, My Grandfather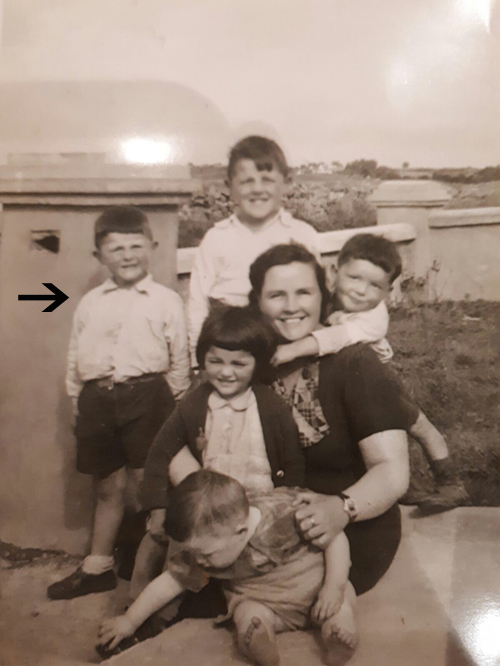 My grandfather Cathal Joseph Duffy was born in 1932 on the 10th of February. He was the third son of John and Sarah Duffy. He had six brothers and three sisters. His family lived in Knockrooskey, Westport beside the national school where his mother Sarah was principal. She had great love for the Irish language which she passed on to my grandfather.

John Duffy, his father, worked as a foreman with Mayo County Council. Cathal was always interested in cars. When he was 18 years old, he began an apprenticeship with Breheny's Garage and then Hastings Garage in Westport. He had great ambition and worked very hard. It was his dream to own his own garage some day.

In 1958 he opened his first garage in Mill Street in Westport. In 1960 he opened his second garage in Thomas Street. This was also the year he married Philomena Cannon. Together, they had six children and shared 49 years of married life together.

While working in Thomas Street, he was offered the Volkswagen and Mercedes Benz Dealership. He welcomed the challenge and Cathal Duffy Ltd in Spencer Park was established in 1962. This business gave employment to 35 staff in the following years. My grandfather was very involved in many voluntary organisations that raised money for people who were in need of help, such as Western Care, St Anthony's School and The O'Dwyer Cheshire Home in Bohola. In 1983, he received the Michael Davitt Humanitarian Award for his work for a people with disability.

His involvement with the Lions Club, The Castlebar Song Contest and Castlebar Airport, helped to bring people and jobs to Castlebar when it was needed. Of all his accomplishments, the one he was most proud of was the success of Knock International Airport.

He helped his friend Monsignor James Horan to get money from the government, to complete the project. He was a director of Knock International Airport for 21 years and a chairman of the board for ten years. He met many people during this time, such as Pope John Paul II, Prince Charles, Tony Blair and many more.

In 2008, he was awarded the Spirit of Ireland honour from the Ross Perot Group for the development of the Knock Airport Industrial Zone. Although I was only four when he died in 2009, I always knew that he was a very special man.
Dearbhla
My Granddad

The name of my granddad was James Patrick O'Dowd. He was born on the 17th of March 1920, which is also known as St. Patrick's Day. That's where his middle name came from. He wasn't born in a hospital, he was born at home. Back then, everybody was born in their house, because the mid-wife would visit the house instead of delivering the baby in the hospital. There were seven people in his family; three girls and two boys. Norah was the oldest, Margaret was the second oldest, Eileen was the third oldest, James (my granddad) was the second youngest and Joe was the youngest. John was his father and Celia Sweeney was his mother's name.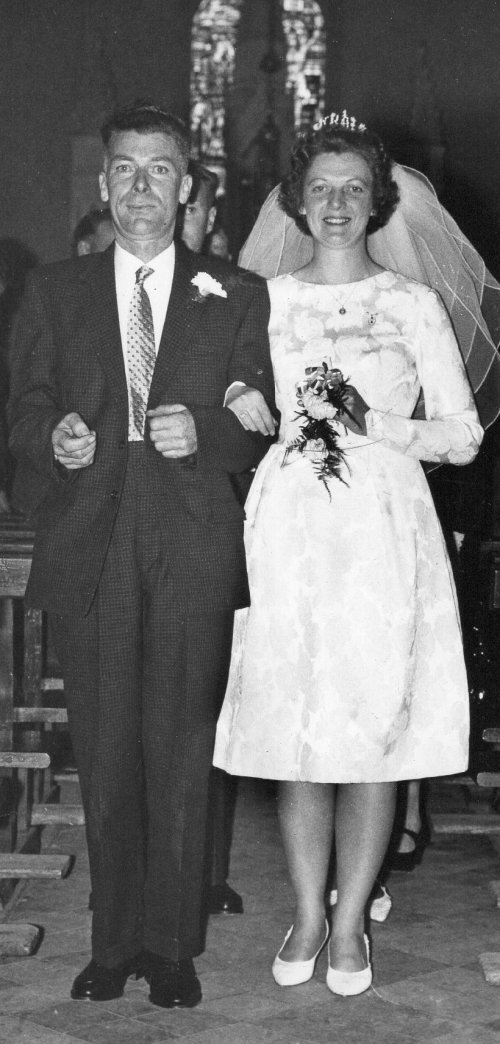 James grew up in Enniscrone, he only went to one school called Kilglass National School. He started school at around five years of age and finished when he was around fourteen. As soon as he ended school, he decided to do what he loved, and that was farming, he adored it. He was a fantastic farmer. He had a colossal farm too. He grew sugar beet. He had pigs, geese, hens, sheep, cows, horses... you name it, it was there. The only plant he grew was sugar beet, lots of it, and the rest was all animals. He had a strong love for horses. He was great at riding them and taking care of them. He knew all about them. He was famous for breeding horses. That was one of his specialties. He'd breed them, take care of them and even train them. When they were ready, he'd sell them to professional show jumpers. His horses won many prizes. One of them was number one for the European Showjumping Competition for five years. This horse's name was Penwood Forge Mill. There's a video of him winning the European Showjumping Competition in 1973 on youtube.

Not only did he love farming, he also loved music. His whole family was very musical. All of his sisters got a diploma in piano. That's actually how he learned piano, not from a teacher, but from his sisters. He played and played and played. Piano and farming were both number one on his list all the way through his life. He never gave up on either of those things. It wasn't just his family though, his whole family was amazing at piano. Sometimes people in the pub would call him and Joe over to sing and play the piano.

Eventually the time came and on the 4th of April 1976 he passed away because he was a smoker. To this day I hated cigarettes because they were the reason I never met my grandfather. Even though I never met him I still love him very much.
Máire Ní Dhubhda
MY GRANDFATHER'S LIFE
On 13/08/1945 my grandfather, Maurice Silke was born in Castlerea. He was a big, fat and friendly baby. It was the end of the Second World War and he was given a ration book as a child (The ration book system continued for some time after the war) and he grew up knowing the Second World War as THE EMERGENCY (That was the nickname the Irish people had for it.) My granddad likes to joke that they started fighting for the right to mind him! When he was young a treat was seen as going up to Knock for a day as they got to eat sandwiches and drink lemonade! He laughs at the fizzy drinks and sweets people consider a treat today.

He lived a happy childhood despite the sad passing of his father. His Grandfather John Silke died before he was twelve. John Silke was chief of the flying Column of Castlerea in the war of Independence and the first ever president of Connaught GAA.
My grandfather was always discovering new things like trains, cars, televisions and telephones. When he first saw a diesel train, he and his two brothers and sister called it an electric train. They didn't know the difference!  He first saw a television in a shop window and thought it was magic. He ran away as fast as he could.
He played GAA for Castlerea Football and enjoyed athletics and swimming. It soon became apparent that he had a natural talent for swimming, and won many competitions and galas. He wasn't allowed to play or watch soccer, or face the sanction of being banned from the GAA for life! The teachers in his national school were very strict but they rarely hit him. After Sixth Class he moved to Tuam to go to secondary school.  It was very rare for a child who had lost his father to go to secondary school as it was costly. Children were normally expected to start working and making an income for the family.
After leaving secondary school, he picked up the points needed for an excellent paying job. He joined the AIRCORPS where he studied theory of flight for two years. After those two years of long and hard studying, he started fixing planes! He thoroughly enjoyed this job and was almost never bored.
When my Granddad was eighteen, he went to a rubbish dump looking for car parts. He reckoned that he would know the way to put together a car from his expertise with aeroplanes. He bought the car parts for twenty pounds. With a couple of friends he had it made and was driving it soon after. He was the envy of his colleagues I can imagine!

At twenty three he got bored of his job and went in search of more excitement. I think he was very picky giving how exciting his job was. He had never been outside the country and wanted to see the world. He travelled to England for a bit of work and to Norway, Amsterdam in Holland featured in his journey as well. He went back to Ireland for a brief spell of work in Belfast before going to work for a few years in Montreal, The Yukon (where he went mining) and Vancouver in Canada. He travelled to Mexico for a bit of partying and surfing before heading back to Ireland.

Back at his homeland, my granddad met Marion Varley. They married after going out for quite some time. The couple had three children together: Carmel (my mother), Brendan and Martin (my two uncles). 

From his middle twenties to his retirement at sixty, Maurice worked at many manufacturing companies including Ferenka down in Limerick and Asahi. He was director of engineering at Allergan as well. At sixty years old he retired from the amazing career he had. During retirement my Grandfather enjoys spending time with my Nanny and going for walks with his dog Sam, going to Spain and visiting his beautiful grandchildren Muiris and Lucia ... he likes Charlie as well.

Muiris
A Biography of Mary
I met Mary, who is an eighty-year old woman who led a vey interesting life. I was very fascinated to hear other life experiences and so she began to tell me her life story.

Mary was born and raised on a small  farm with two brothers and three sisters. She helped her father on the farm from an early age. She fed the animals and cleaned the stables. Money was scarce, so she didn't enjoy many luxuries, unlike young eleven-year-olds-my age. For example she had no mobile phone, no ipads and no technology in general. I realised on talking to her how fortunate my age and I are to enjoy such luxuries.

Mary attended the local primary school from the age of five to twelve. When she finished her primary education, her parents could not afford to send her to secondary school, so Mary continued to work on the farm until the age of sixteen. Her life revolved around hard work and caring for her younger siblings. Listening to all this, I realised that my life is very different to what Mary's has been. I am lucky because I know I can look forward to five or six years of second level education. I have many dreams for the future and hopefully I will have an interesting career in the years to come. I also enjoy extra school activities such as swimming and dancing. Alas Mary had no such opportunities.

At the age of sixteen, Mary was offered a job as a house-keeper for a wealthy family who lived in the nearby town. Here she worked long hours cleaning and cooking for the family. She had very little free time. Her wages were low and each day ended in exhaustion for Mary. I found this very sad because the sixteen-year-olds nowadays have wonderful opportunities in education and a variety of activities to choose from.

She told me that the work was hard but she had to continue and contribute money to the family. She remained working for this family for four years. At the age of twenty she emigrated to America. There she found similar work. Her wages were higher and she had a better social life. She missed her family and felt lonely. On hearing all this, I am very aware of my privileged position as an eleven-year-old.

She remained in America for around fifty years, working at various jobs. Her life improved but was still difficult she never had any surplus money but had enough to survive. She was constantly thinking of home. Ireland had a special place in her heart, and in her fifties she decided to return home. Mary settled in a rural village near her birth place. She still resides there today and that is where I had this conversation with Mary.

I found this meeting with the eighty-year-old Mary interesting and I learned a lot from her experiences. I truly appreciate my good fortune and the wonderful opportunities that hopefully await me in the future. 
Niamh  
My Mother's Schooldays

My mother was born and lived in Barnaderg, Galway. She lived in a bungalow on a farm. There are twelve in her family: seven boys and five girls.

She went to Barnaderg National School. They didn't wear uniforms. There were twelve in her class. Her least favourite subject was geography and her favourite was history. She started school at the age of three. Her teachers were not very strict.  She got much the same amount of homework as I do now. The games she played at lunch were Rover Rover 123 and tip. When she would come home from school she'd eat the dinner and do some chores.

She lived in an eight-roomed house. Her dad put turf in the fire during the day. All the cooking was done on a range. The roof was made out of slates. She had a sheepdog and plenty of other animals such as cats, cows, pigs and chickens. She went to secondary school in Tuam. School started at nine and ended at four. In secondary school she had a uniform. Then she went to a convent but this convent was not the same as the ones today as there were nuns teaching.

She hopes one day to have a holiday home in Barnaderg, as most of her family lives there now. Her sister lives in the same house as my mam grew up in.

Lee Ó  hÉanacháin
My GRANDDAD REG!
My granddad is eighty-four years old and lives in the Isle of Man.
With my grandma Grace, I visited him this summer and he told me some funny stories of when he lived in Glasgow in Scotland as he was a child.
When my granddad was fifteen, he and his friend cycled from Glasgow to Edinburgh and back which is a hundred miles. In addition, he was on a butcher bike [a butcher bike is a heavy bike with a basket on the front] and, for some one who isn't fit, that's pretty hard. He said after "I couldn't walk for a week." He didn't cycle much after that.
One of my granddad's first jobs was a drummer and he played on cruises and in villages. When they were driving to a village in Italy, the brakes failed going down a mountain so they had to use the gears and the handbrake. At the bottom the handbrake was on fire so he got a whiskey to cool his nerves. They made it just in time for the gig. Now they live in a three-storey house. I can't wait to hear more funny stories next year. It will be such fun!
AENGHUS
Generations

Things change all the time.
People change all the time.
Times change all the time.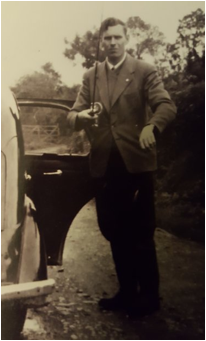 My granddad was born Francis Smith but later changed his name to the Irish form of the name Mac Gabhann for he was fascinated in the Irish language and culture. He lived in Red Hills Co.Cavan in a farmhouse with his brother and sister called Úna and Patrick. They lived in a very remote area. They had no tv, nor electric lighting, electric heating, washing machine, dryer, fridge or any other modern appliances. They had no running water so they had to fetch water from a well on their land. There was no toilet so they had to go as they said, "up the fields". They had no cars so they walked and cycled everywhere including to Croke Park because Cavan had a great team in the 1940's! His favourite pastimes were fishing, and playing football. 
When he was older, his family got a radio. It was very rare for a family to get a radio back then.

Whenever Cavan were playing, all the neighbours would come in to listen to the matches on the radio.

My dad is called Fiachra Mac Gabhann. He lived in Blackrock, Co.Louth beside Dundalk. They had a black and white tv. When he was young, one of his great memories he had were when Argentina played Holland in the world cup final in 1978. Unlike my granddad, my dad went on holidays to Donegal and Kerry each year. They had a car and a bike. His brother and sisters were called Aenat, Ciara and Féilim.

In the house they had a toilet and a fire-place in every room except the bathroom. They did not need to grow their own food, they just bought it in the supermarket. They had a new wonderful attraction in the hall called a phone. He attended primary school and secondary school and college, unlike his father who only went to primary school.

I am Fianach Mac Gabhann and I live in Partry in Co. Mayo. Unlike my dad, I travel abroad to other countries on holidays. I grew up with Nintendos, the internet, laptops, iPads, xBoxes, youtube4 or skype. However, there are also similarities. I love football and music like my father and grandfather. Like them, I also have a bike to get around.
Fianach
MY Mom's Childhood
Hi this story will be about my mom in primary school. My Mom first started school when she was four. Her first school was a small school in the countryside. The school only had two rooms. The school shut down when she was in 3rd class.

After that she went to a bigger school only two miles away from the old school. She went to school on the bus every day. She used to go swimming with the school. After swimming she would get sweets. Their teacher was sick a lot, so they got a sub. She was very nice. A couple years later she went to secondary school.
Caoimhín
LIFE IN MY GRANDPARENT'S TIME
TODAY I WILL BE WRITING ABOUT "LIFE IN MY GRANDPARENT'S TIME". TO FIND OUT ALL OF THE INFORMATION FOR THIS BIOGRAPHY, I ASKED MY NANNY VARIOUS QUESTIONS ABOUT HER PAST. ONCE I HAD ALL OF THE ANSWERS, I WROTE THIS ESSAY.

MY NANNY WAS BORN IN 1939 WHICH MAKES HER NOW SEVENTY-EIGHT. SHE IS ORIGANALLY FROM BALLYHEANE. THE HOUSE SHE USED TO LIVE IN WAS A SMALL FOUR-ROOMED BUNGALOW. IT WAS OUT IN THE COUNTRYSIDE. HER PARENTS PATRICK AND MARY WERE BOTH FARMERS. ON THEIR FARM THEY HAD FOUR COWS, ONE HORSE, A PIG, HENS, DUCKS AND TURKEYS. PATRICK WOULD SELL TURKEYS EVERY CHRISTMAS. THEY SOLD EGGS AND MILK ON THE MARKET AS A JOB.  MY NANNY HAS TWO SIBLINGS A SISTER AND A BROTHER. BACK THEN THEY HAD NO HEATING ONLY OPEN FIRES. EVERY NIGHT HER FAMILY WOULD KNEEL DOWN AND SAY THE HOLY ROSARY.

MY NANNY WENT TO ERREW NATIONAL SCHOOL. IT WAS A VERY SMALL SCHOOL.  HER CLASSROOM WAS VERY COLD SO HER TEACHER GOT THEM TO BRING IN TURF TO PUT IN THE FIRE. THERE WERE ONLY FIVE GIRLS IN THAT CLASS. THE TEACHER WOULD SMACK THE GIRLS SEVERAL TIMES IF THEY DIDN'T PAY ATTENTION. MY NANNY WOULD BRING HOMEMADE BREAD, BUTTER AND JAM TO SCHOOL AS HER LUNCH. HER CLASS WOULD HAVE TO EAT UNDER A WALL. AFTER SCHOOL, SHE WOULD GO HOME AND HELP AROUND THE FARM. SHE ALSO WOULD PLAY HOPSCOTCH AND FOOTBALL.

AFTER YEARS OF ERREW NATIONAL SCHOOL SHE WENT TO TECH VOCATIONAL SCHOOL FOR TWO YEARS AND BECAME A NURSE. IN 1966, SHE GOT MARRIED TO MY GRANDDAD. THE CELEBRATION WAS HELD IN THE IVY TOWERS. THEY HAD FIVE DAUGHTERS. THEY HAVE THIRTEEN GRANDCHILDREN, NINE GIRLS FOUR BOYS.

OVERALL, IT IS CLEAR THAT THERE ARE MANY DIFFERENCES BETWEEN MY LIFE AND THE LIFE OF MY NANNY. THIS CAN BE SEEN IN THE DIFFERENCES BETWEEN SCHOOL LIVES. THE CHOICES OF FOODS AND THE VARIETY OF HOBBIES THAT WE NOW HAVE ARE MUCH BROADER. I FEEL THAT LIFE IN 2017 IS MUCH MORE PLEASANT THAN LIFE IN THE 1950S.
CHLOE
Stories of Grandparents
My grandparents grew up in the fifties in a very different Ireland. I am lucky enough to have all my grandparents alive and well. My grandparents have many stories from when they were young. I mostly remember the stories Granddad Séamus has told me as they have a little bit of magic or mystery in them.

My favourite story is the story about when Granddad was ten, his Father was at the church and he met an old lady who looked really sad. When he spoke to her, he found out she was in hospital for a month and had lost her job. All the money she had left was five shillings. She had always lit a candle on a Friday for the souls who had nobody to pray for them. She didn't know if she should spend the money on a candle or a loaf of bread that evening. Granddad's dad gave her the money to light a candle and he went home.

When the lady was leaving the church, she met a man who spoke to her and asked her why she was so sad. She explained her story to him. He told her that a lady down the road was looking for a housekeeper and she should go and speak to her. When she went to that lady's house she was brought into the parlour room or sitting room. She told the woman of the house she was looking for a job as a housekeeper. The lady of the house was amazed as her housekeeper had just left the job. The old lady looked at the picture over the fireplace and said "that's the man that told me you were looking for work". The woman couldn't believe what she heard. The man she was talking to in the church had been dead for ten years and was her husband.

This is my favourite story of my granddad.
Caolán Ó Coinín
Grandparents
My Mom's dad was born in 1929. Next month he will be 88 years old.  His was a family of eight, four boys and four girls. He was the youngest and is now the last one alive. His name is Michael Joe Sheridan.

He went to a school in Ballygarries. It was only a small school with not many pupils. They had to walk four miles to and from school every day. There was no heating in the school so everyone had to bring a sod of turf for the fire every day. Granddad told me a story once where the teacher got very cross because his sod of turf was too small. She spanked the palm of his hand four times with a ruler. He made sure to bring a big sod of turf from then on.

He was a great Gaelic football player and even played for the same team I play for now which is Ballintubber. He was in Croke Park in 1951 when Mayo last won Sam Maguire. He worked as a farmer all his life and he loves the outdoors. He married Nora, my nana in 1963. Moved to Clogher and has lived there ever since. They are over fifty years married.

My Nana's name is Nora Finnerty. She grew up in Sheeaune in a family of nine: four boys and five girls. She was the youngest in her family too. When she was seven, they moved to Clogher, Claremorris.  She went to Clogher National School and was brilliant at maths. She and her brother Tom travelled to America by boat in the 1950's. She lived and worked there as a nanny for a couple of years, before returning to Clogher. Tom is still in America to this day. Nana married granddad in 1963 and had five children, three boys and two girls. My mom is the youngest. My nana will be eighty years old next month and I'm really looking forward to her birthday.

My grandfather was born in Breaffy. There were five in his family: two boys and three girls. Two of his sisters died and three remain. He went to Manulla national school and went to Davitt College on the Newport Road. He served his time as an apprentice painter with Joseph Livingstone. They travelled all around Connaught painting hospitals and schools. When he finished his time, he worked as a painter for Mayo County Council and went on to work for the Western Health Board. He retired six years ago and does gardening as his pastime. He got married in 1967 to Maura O' Connor. They are fifty years married in October.

My dad's mom, Maura, was born in County Longford, in a small village called Street. She grew up in a family of ten five boys and five girls. Four have died. Nana is the third youngest. Margo moved to Australia in the early sixties. They talk a lot on the phone but haven't met since. Five of nana's family moved to Northern Ireland. Dad's mom moved to Castlebar. Two stayed in Longford and one moved to Dublin.
Ethan
Margaret Marren – my Nanny's life.
This is a story of my Nanny's life and I will be taking about her family, her life as a child and as an adult.
My nanny was born in Co. Sligo in the year 1934. She was named after her mother who was also named Margaret. She had two older brothers and no sisters. People in Ireland in 1934 where very poor and this was the same for Nanny's family too. It was very hard living in Ireland in the 1930's and 1940's because World War Two had started and food had to be rationed. Some of the foods that was rationed was butter, sugar and tea which made it hard to live in Ireland because food was limited, so people were often hungry. When Nanny was six, life became harder for the family after the sad passing of my Nanny's father that died in 1941 fighting a battle against cancer.
As a child, Nanny had to walk three miles to school each day in her bare feet. She had shoes but was only allowed wear them on Sundays for mass. She never liked them because they hurt her toes.  Her school was small and cold but the teachers were nice. Although she was the smallest, she was very intelligent at maths. She once won a box of plums for knowing her twelve-times multiplication, which would have being a great achievement at the time. In secondary school she was able to cycle seven miles to school. She enjoyed school and liked playing sports. Nanny was very good at some sports and was the caption of the senior camogie team which is still a great achievement and honour.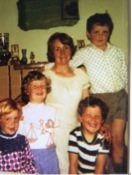 After Nanny finished school, she got a job in an office. She got married in 1969 to my granddad and, because of the law, she had to leave her job after she got married. For ten years, she was unemployed. In that time she gave birth to all four kids: two boys and two girls, one of which is my mother. When my mother was five years old, her mother started back at work in another office. She quickly and cleverly worked her way up to head of the office.

Now Nanny has thirteen grandkids scattered across Connaught. She enjoys playing golf and going on holidays with family members. She also looks after some sheep and two donkeys called Miley and Denny. She lives alone because granddad died 25 years ago. Her small amount of farm animals and her cat Eddie, keep her company!

Tadhg O hAodha
The Life Of Mary McGrath
My name is Mary.
I was born in a small village called Cornboy.
My mother's name is Winnifred
I have six children. Their names are Niamh, Gloria, Rachel, Ruth, Megan and Shane. I also have nine grandchildren. Their names are Ethan, Gemma, Brooke, Sienna, Danny, Harry, Annie, Mikey and Luke. They are all between two and twelve years old.
When I was younger, I lived on a farm with my four brothers and two sisters. As I was the eldest, I had to do most of the work such as going to the bog to get turf, helping with the dinner and putting the younger ones to bed.
I hated school. The teachers were horrid and hated us all. Every day after school, I would go down to the nearest well and get water for us to have with our dinner while my siblings would play outside and go down to help out on the farm. My brothers loved to play football while my sisters would play with their dolls. I never really got to play because I was always working but I enjoyed life back then.
I didn't have much time to do homework or study for tests so I never really thought about college or university, but now I have a job in a school working with the disabled children and I love my job.
My husband John-Paul and I were engaged at 16 and married at 19 and had our first child (Niamh) the following year. Oh, how the times have changed! On the bright side, I am fortunate enough to have nine grandchildren whom I regularly see and that I'm young enough to enjoy them. Please God I will live to see my great-grand-children.
Brooke
Life in 1954!
My Nana Rita Skelly-Farrell was born in the year 1942. She was the eldest of six girls. Her only brother died of pneumonia which was very common in those days. I'd like to describe her life when she was my age in 1954.
 
In 1954 the president of Ireland was Seán T. O'Kelly and the Taoiseach was Éamon de Valera. This was a very different time from today. The Pope announced a Marian Year which meant there were a lot of pilgrims in honour of  the Virgin Mary.
Rita walked three miles every day to school. She brought jam sandwiches and a bottle of milk everyday for her lunch. She didn't wear a uniform, so she wore a pinafore, a blouse and a cardigan. If she was late for school she would get three slaps on each hand. The teachers were very strict and could be quite cruel. There were four small classrooms and two teachers. She didn't have any workbooks. She only had a copy for each subject. Her favourite subject was English and her least favourite was Irish. At lunchtime, she ate outside and they played handball. The toilets weren't in the school; they were in outhouses! It was a tough year studying catechism for her Confirmation. She had to learn everything off by heart or she would be in big trouble with her teacher and priest.
After school, she had jobs to do: bring in fuel for the fire and wash the clothes. The wash machine had a roller at the end of it to squeeze the water out of the clothes. She made butter using a churn with her mother, a job that was very tiring!
Her first book was very special. It came from a relative in England and it was called Cinderella. Santa was very different back in 1954. He would bring her pencils, copies, oranges and best of all biros. She loved getting biros.
My Nana is now 76 years old. Her life was very different to mine but it has made her the person she is today that I love! J

Isabel